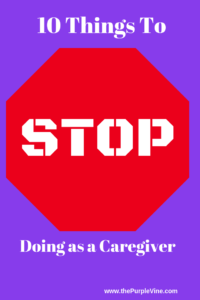 I've written plenty on what to do in certain situations caregivers face, so today, I'm going in the opposite direction.
Today I'm suggesting 10 things you should STOP DOING as a caregiver of a loved one with some form of Dementia. (Notice I said, "suggest". The choice is yours.)
1) STOP THE GUILT TRAIN.
Our guilt and sense of obligation can imprison us. Realize that it IS possible to honor and love someone and, at the same time, schedule time away. And by "time away" I mean both in physical distance and mental and emotional separation. It's not only acceptable to do this, but it's also wise. It doesn't mean you care for your loved one any less. It does mean that you remember that if you fall apart, you aren't going to be able to help anyone.
2) STOP ASSUMING YOUR LOVED ONE CAN'T MAKE ANY DECISIONS.
Asking her opinion or preferences validates them as an individual as well as shows respect. Some things are, of course beyond their abilities now, but allow choices wherever possible.
3) STOP BELIEVING YOUR LOVED ONE IS CHOOSING HOW HE BEHAVES OR WHAT HE FORGETS.
Have you felt frustrated because you feel like he remembers some things that are important to him and completely forgets other things, such as the things that matter to you? Try to view these issues as resulting from the disease, rather than a deliberate choice designed to frustrate or hurt you. This will help you cope more positively with dementia.
I recently spoke with someone who repeatedly felt her father was choosing to be difficult. She thought he was being rude and forgetful on purpose and it irritated her to no end. Once I explained it was the disease causing the issues and that he had no control over his memory, it helped her re-frame her emotions to being supportive and not resentful.
4) STOP SETTING UNREALISTIC EXPECTATIONS.
Whether it's expecting your loved one to remember where she placed her glasses, hoping she can follow multi-step directions, or expecting her to hurry. Be realistic with what you expect her to do. Stop expecting her to be able to do everything like she used to. Along that same line of thought (and sometimes an even harder challenge): Be realistic with what you demand of yourself.
5) STOP NEGLECTING YOUR OWN HEALTH.
You likely prioritize your loved one's health while sacrificing your own. You can't help if you are in the hospital due to preventable causes. (I'm talking to myself here too!)
6) STOP DELAYING THE HARD CONVERSATIONS.
When a loved one is diagnosed with a form of Dementia, some hard conversations MUST take place. Having them sooner allows her to be sure her wishes will be carried out. It may be uncomfortable to discuss these things, but you will be able to be confident in your decisions, knowing that you're doing what she wants you to do. These discussions should include care options for when her disease progresses, power of attorney designations, living-will preferences, and burial plans.
7) STOP ASSUMING NO ONE UNDERSTANDS.
With over 15.5 million unpaid caregivers in the U.S. alone, plenty of people are in the same boat as you. There are in-person and online support groups, counselors, friends, and perhaps co-workers who either are in or have been, where you are. Reach out either on Facebook or in forums, call the Alzheimer's 24-hour helpline, or search for groups in your area for in-person meetings. Sometimes just realizing you are not alone can be a huge stress reliever.
8) STOP NEGLECTING YOUR OWN FAMILY.
Some of you are still raising children at home while caring for aging parents. My heart goes out to you! Get some help so you can intentionally spend quality time with your family, even if it's just you and your spouse. Everyone can benefit from a date night every now and then. (Refer to #1)
9) STOP SACRIFICING YOURSELF AND RUNNING ON EMPTY.
Be intentional and proactive with where you allocate your time and energy. Maintaining a balance in life benefits everyone involved, besides, it is likely what your loved one with Alzheimer's would want you to be doing.
10) STOP TRYING TO DO IT ALL ALONE.
Yes, you have Wonder Woman tendencies and are sometimes as strong as Superman, but let's face it, you will burn out if you try to go it all alone. Perhaps you made a promise to care for your loved one. Remember that this promise does not require you to do it solo. Ask for help. Give others a chance to bless you. Even if someone comes in to watch tv with mom while you and the hubby go out to eat, it's a wonderful break!
You are doing a wonderful thing in being a caregiver. It's an extremely difficult job with few guidelines, long hours, and little or no pay. Remember God is waiting to hear from you and to renew your spirit. His prayer line is never too busy for you. Be blessed!