Faith Lives Here – Adult Coloring Book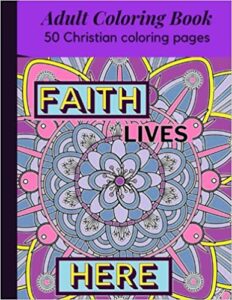 This is a great inspirational gift for women!

Couldn't we all use a little stress relief?
This Adult coloring book is full of beautiful artwork. Mandalas surround 50 positive affirmations and Bible Verses allowing you to express your creativity.
Relax, unwind, and design your unique creations as well as focus on God's goodness.
Each page has a blank back to prevent bleed-through and damage to your inspired work.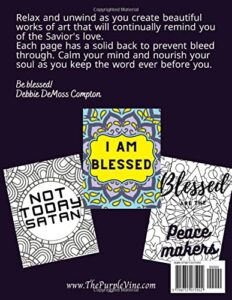 Fill your mind with Joy as you dwell on positive things instead of the worries and stresses of the world.
Let your creative juices flow as you combine colors and patterns to create your own unique self-expression.
Pages can be removed and framed to help you stay focused on the goodness and blessings of God.
Share some happiness with a friend today!
This is a perfect stocking stuffer or Christmas gift for the one who has everything.
It also makes a great birthday gift or a special way to say "I'm thinking of you." Looking for an Adult coloring book with no words? I've got you covered!
Color Me Calm
is full of original mandalas, (drawings) with no words.
It's the perfect Chemo gift that brings hope, encouragement, and positive thinking.
Remember to grab a copy for yourself to keep your mind active and help reduce your odds of dementia.
Be blessed!