When you have a loved one with dementia, you may experience what I call "the repeats." 
It reminds me of an old joke I heard as a kid that was super annoying. It went like this: Pete and repeat went up a hill. Pete fell off, and who was left?
When the victim says "repeat," you repeat the lines again. "Pete and repeat went up a hill..." Annoying, isn't it?
As kids, we chose to be annoying by telling that joke to people. Our loved one didn't choose any form of dementia. Nor would we wish it on them!
On a good day, they will ask the same question with at least some delay in between, but as the disease progresses, the length of time between repeats shortens. The sooner you realize it's a part of life now, at least for a while, you can prepare things in advance to minimize the occurrence or add some variety to it.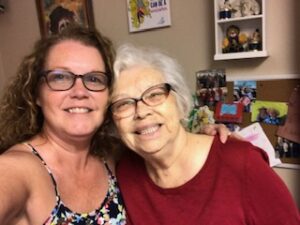 What can be done?
One day, my preparation for Mom's doctor's visit included printing out four pictures of various family members for Mom to look at while we waited. There is no need for more because she forgets what she's seen by the time she looks at the second picture.
She studied each picture, one at a time, and made the same comments every time. "Oh, look at this baby! Isn't she cute? Who's is she?" to which I'd reply, "Yes, she is adorable! That's Audrey; she's Ashley's little girl." and mom would say, "Oh, that's right." The following picture was of my son, who she still recognizes. Her comments were: "Oh look! That's Adam! When did he grow that beard?" I replied with variations of "A long time ago," "sometime back," and "a few years ago now."
We had already completed this conversation six or seven times when my cell phone rang with an important call. As I talked on the phone, Mom asked the same questions again. To my surprise and delight, the lady seated next to Mom jumped in and carried on the conversation with 100% accuracy! What a sweet woman!
She blessed my day by assisting Mom so I could finish my call.
Don't lose your cool when you find yourself stuck in circles, saying or doing the same things repeatedly.
Try these tips.
* Look at an old photo album.
* Encourage them to read a book or look at a magazine.
* Talk non-stop until they forget that loop. (It really works!)
* Give them a coloring book or paint-by-number kit.
* Put on an old movie from their day. (Doris Day, John Wayne, Jimmy Stewart, or whatever they prefer.)
* Have them make or pick out a card to send to a friend.
* Give them a simple task to accomplish.
* Call a relative or friend and put it on speaker so you can facilitate the conversation.
* Give them some food to eat and, thereby, focus on.
* Distract in any way possible.
Repetition is a part of dementia, but remember, it is only a stage. It will pass, and one day, you'll almost wish for the repeats again. Hang in there. You got this!